OWC
General Servicing Kit


For All 21.5" Apple iMac 2012 and later
Mac
Kit with installation tools to service all Apple 21.5" iMac models released since 2012
Upgrade or service your iMac with confidence.
This convenient package from OWC allows you to update your 2012 or later 21.5" iMac. Replace your RAM or hard drive for larger capacity units or upgrade to the latest solid-state option from OWC, this kit allows you to open and reseal your iMac up to two times.
Please note
Before attempting to perform this installation, please watch the install video below to determine your ability to perform this complex upgrade.

Professional installation is highly recommended.


OWC assumes no responsibility for damage that may occur during the install. Technical support for this DIY product consists only of the OWC Install Video.
---
Includes
(2) 21.5" iMac Adhesive tape set for proper display resealing
(1) OWC Blue Microfiber Screen Cleaning Cloth
(2) OWC 2-1/4" Suction Cup
(1) OWC Screen Removal Tool
(1) Torx T10 Driver
(1) Nylon Pry Tool (Spudger)
NOTE: This kit contains consumable and/or one time use components and therefore is not covered by any warranty. If you have any concerns about your ability to perform the upgrade, you can return the unopened kit for a refund.
---
This product is compatible with...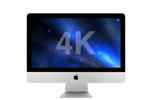 iMac w/Retina 4K display
(21.5-inch Mid 2017)
(June 2017)
3.0GHz i5, 3.4GHz i5, 3.6GHz i7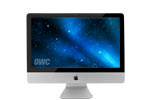 iMac (21.5-inch Mid 2017)
(June 2017)
2.3GHz i5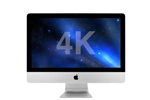 iMac w/ Retina 4K display (21.5-inch Late 2015)
(October 2015)
3.1GHz i5, 3.3GHz i7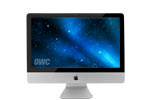 iMac (21.5-inch Late 2015)
(October 2015)
Model ID:
iMac16,1; iMac16,2
1.6GHz i5, 2.8GHz i5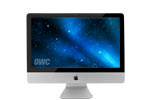 iMac (21.5-inch Mid 2014)
(June 2014)
1.4GHz i5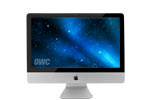 iMac (21.5-inch Late 2013)
(September 2013)
2.9GHz i5 or 3.1GHz i7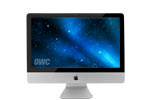 iMac (21.5-inch Late 2013)
(September 2013)
2.7GHz i5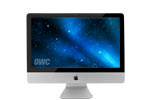 iMac (21.5-inch Early 2013)
(March 2013)
3.3GHz i3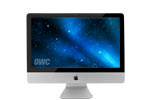 iMac (21.5-inch Late 2012)
(October 2012)
2.7GHz i5 , 2.9GHz i5, 3.1GHz i7